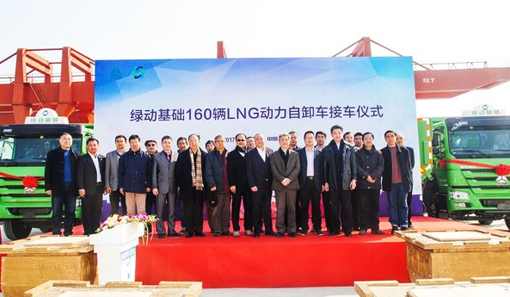 On February 18th, China National Heavy Duty Truck Group Sales Department Shanghai branch together with a dealer in Shanghai, held the delivery ceremony for 160 units Sinotruk LNG Dump Truck at Shanghai Port.
In recent years, with the rising trend of air pollution and rising oil prices, LNG (LNG), as a kind of high quality, efficient and economical clean energy, has been favored by more and more large truck users, construction of special vehicles and other areas of the application have been rapid development.
These vehicles delivered by Sinotruk are exactly the LNG-powered HOWO 8x4 dump truck. About the configuration, the car is using heavy truck HW76 cab, equipped with T12-380 horsepower LNG engine, matching HW19710 gearbox, with HR9 tons front axle, HC16 rear axles. Generally speaking, the configuration is mature, fully able to meet the needs of urban infrastructure construction vehicles.