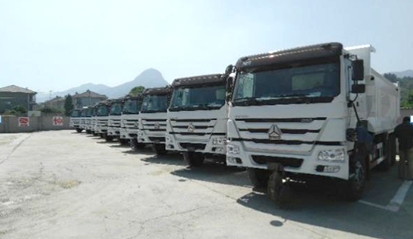 May 18, First batch of 15 HOWO-7 new intelligent slag trucks were delivered to users of Zhejiang Anji.
Anji County of Huzhou City, Zhejiang Province is the United Nations Habitat Award which only access to the county, China's first eco-county, the first batch of ecological civilization construction pilot areas. As the theme of the ecological environment of the county, for the requirements of the slag trucks are extremely harsh, the vehicle not only to meet the national five emission standards, for the cover of the seal, the vehicle safety, comfort, aesthetics also raised Detailed requirements. China National Heavy Duty Truck HOWO new slag truck meet the local government's request for the vehicle, while China National Heavy Duty Truck "family service" also attracted the user, lifted the worries.
This batch of 15 Howo new intelligent slag truck going into the Anji slag truck market, not only help Anji county city construction, but also laid a good foundation for the follow-up heavy truck slag truck market .