May 21, China National Heavy Duty Truck and Nanjing Jianye, Jiangsu Andover 94 HOWO T7H dangerous tractor delivery ceremony, successful conclusion in the summer. China National Heavy Duty Truck Group, China Federation of Logistics Purchasing, part of the logistics business representatives and Nanjing local distributors and direct users nearly 200 people attended the ceremony, witnessed a new breakthrough of China's heavy truck in the Yangtze River Delta region hazardous chemicals transport market.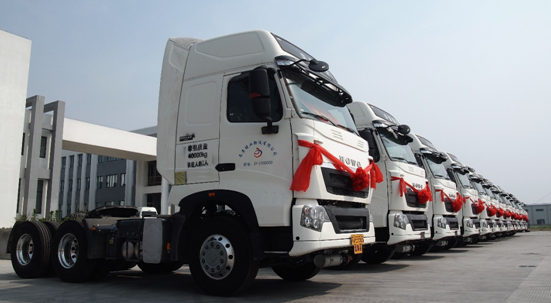 Work together to develop, beneficial in win-win situation. SINOTRUK sales vice president Duan Hengyong said that by virtue of the advantages of Man technology products and good market performance, SINOTRUK rapidly realized the conversion from STR platform to MAN platform, from the main vehicle of the construction vehicles to the road vehicles and special vehicles, Balanced development of the initial success of the transition. The strategic cooperation with Nanjing Jianye, Jiangsu Andover strategic cooperation is more powerful, complementary advantages, HOWO-T7H undoubtedly served as the most important role in cooperation between the two sides . Duan Hengyong also introduced China's heavy truck "wisdom heavy truck" APP, "full life cycle service", "non-stop service" and many other special services.
This delivery of the HOWO T7H dangerous tractor is tailored heavy truck products produced by China National Heavy Duty Truck from the safe, reliable, fuel-efficient, intelligent four aspects for the hazardous chemicals industry , not only have the industry's most comfortable and in line with Swedish safety standards Room, but also for the engine, axle gearbox and other major components were optimized to upgrade. It is worth mentioning that the vehicle uses dual-loop braking system, with a mature and reliable front disc brake and engine-assisted braking and ABS anti-lock system, EBS electronic brake control system, cruise control, lane departure system Many of the top electronic auxiliary system, vehicle safety is extremely high, to ensure that the occupants of the car's personal safety. Through this product, China National Heavy Duty Truck will be truly establish mutually beneficial and win-win relations of cooperation with Nanjing dangerous transport enterprises.