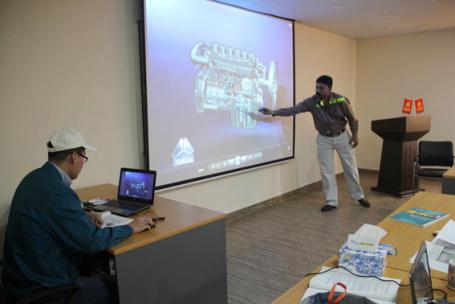 On November 20, Our Sinotruk Pakistan Training Centre which is located in Lahore the Pakistan's economic center stated to be operation . This is the first training center which is established by Chinese commercial vehicle brand in Pakistan . And also this is the first independently operated training center which is seted up by Sinotruk group overseas department . Wang HaoTao , executive deputy general manager of China National Heavy Duty Truck Group, made the guidance on the building construction of the training center when he is making the inspection in Pakistan .
The purpose of establishing Sinotruk Pakistan Training Centre is firstly to train drivers and maintenance workers in Pakistan. Secondly, to enhance the influence of Sinotruk brand in Pakistan. Thirdly, to make the training for after-sales service workers which is also helpful for the other region in the future .
In the past few decades, the Japanese trucks have been monopolized for a long time in Pakistan . But with the launch of the "Belt and Road" and the "China-Pakistan Economic Corridor" project, CNHTC vehicles have started to enter Pakistan market with a large quantity , rapidly increasing in a large volume and having a larger market share. With the rapidly increase of market share, Sinotruk has also improved the after-sales service system step by step . The establishment of this training center has a positive and far-reaching impact on the development of Sinotruk in the Pakistani market.