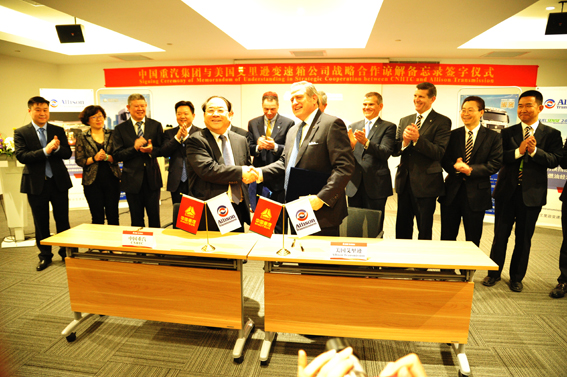 April 19th afternoon, during the Seventeenth 2017 Shanghai International Auto Industry Exhibition, China National Heavy Duty Truck Group and the United States Allison Transmission Company held a strategic cooperation memorandum of understanding signing ceremony. Under the Memorandum of Understanding on Strategic Cooperation, the two sides will conduct in-depth discussions and studies on the establishment of a comprehensive and close strategic partnership. The Chairman of China National Heavy Duty Truck Group Ma Chunji and the United States Allison Company Lawrence E. Dewey signed and delivered speeches respectively.
Ma Chunji said that China National Heavy Duty Truck Group has maintained a high level of foreign cooperation, also adheres to independent development and achieve win-win cooperations, and CNHTC has established a long-term cooperation with the world a number of well-known commercial vehicle enterprises and parts enterprises. CNHTC and Alison have a long history of cooperation, and it is our common desire to provide Chinese consumers with a comprehensive meet the needs of truck products and more optimized vehicle transmission technology. Lawrence E. Dewey said that Allison has a huge potential in Chinese heavy truck market, and the two sides will make full use of each other's resources and strengths to conduct in-depth cooperation and seek localization opportunities. The reliability and durability of Alison's Gearbox products are well known all over the world, and they are favored by many customers, especially in the worst working conditions. We are convinced that the cooperation between the two sides will bring the best technology for customers' vehicles, the most excellent reliability and durability, and the optimal fuel efficiency.
The two sides agreed that the demand for automatic transmission showed a trend of amplification as the demand for Chinese truck users escalated, especially in the engineering vehicles, terminal vehicles, mining vehicles and other special operations vehicles and other fields, the market has great potential. As a leading manufacturer of domestic vehicles in China,CNHTC will provide full support to Allison Corporation in all aspects of user needs, market analysis, cost analysis and project approval to achieve full cooperation between the two sides as soon as possible.