State Vice President Li Yuanchao Visited Sinotruk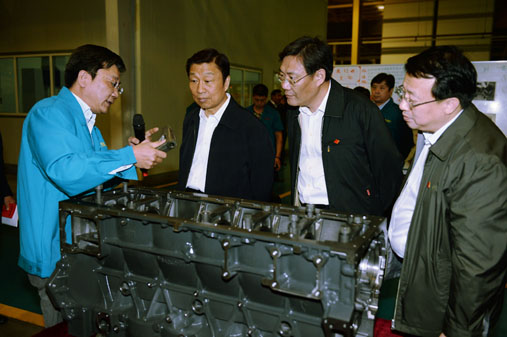 On October 13, Li Yuanchao, member of the Politburo of the Communist Party of China and the State Vice President visited China National Heavy Duty Truck Group Co., Ltd. (Sinotruk for short), accompanied by Gong Zheng, Deputy Secretary of CPC Shandong Provincial Committee and Wang Wentao, standing committee member of CPC Shandong Provincial Committee and Secretary of CPC Jinan Municipal Committee. Cai Dong, President of Sinotruk reported about relevant work.
He cheerfully visited the MAN technology engine product and its production lines, vehicles and major assembly products in the exhibition hall, and the final assembly line of Sinotruk Jinan Commercial Vehicle Co., Ltd.. Li Yuanchao looked at various engine products and parts assemblies carefully and learned in detail about the technical performance of the engines manufactured by Sinotruk. Li Yuanchao asked questions at the time of visiting, and Cai Dong reported the strategic cooperation with MAN SE, the engine products manufactured based on MAN engine technology have met National V emission standards and various performance indicators have reached world's top-ranking level. For instance, the engine B10 service life can reach 1500,000 km. Sinotruk's high-end heavy duty truck SITRAK has entered the markets in Hong Kong, Taiwan and Turkey. Sinotruk;s products have an increasing share in domestic market and export ranked the first in ten consecutive years among industry peers. In spite of worldwide economic downturn, Sinotruk persists in transferring the mode and adjusting the structure authentically and vigorously enhance the internal management to decrease the costs and increase the efficiency. In addition, the profitability continues to rank top in the industry. Li Yuanchao fully affirmed the practices and achievements of Sinotruk, and encouraged Sinotruk to endeavor to maintain steady growth, restructuring, and technological innovation in the era of "new normal" of China's economy and create guiding experience.
After learning about the development of Sinotruk's branch of Communist Youth League, Li Yuanchao pointed out that the enterprise should thoroughly study and implement the spirits of series of important speeches by General Secretary Xi Jinping, to strengthen the building of the organization of Communist Youth League and team of young employees and promote the pragmatic innovation in accordance to the requirements of preserving and enhancing the political character, advanced quality, and universality for the public. In addition, great efforts should be made to ideological and political education to continuously enhance the service level. Young employees should be encouraged to do the best in self-innovation and creative development so as to make contributions to the development of the enterprise and the country.
The leaders in relevant authorities in Shandong province, Deputy Secretary of the Party Committee of CNHTC Group Yu Youde, and members of management team of Sinotruk Jinan Commercial Vehicle Co., Ltd. attended this event.