Ma Chunji visited Polish ZASADA Group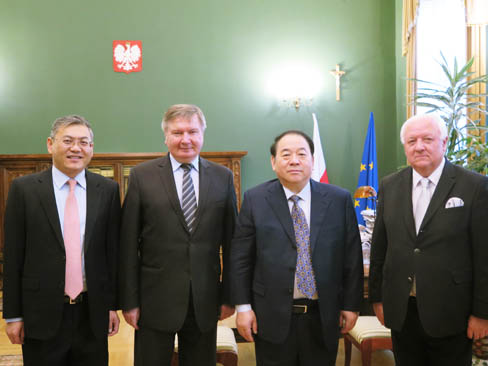 From September 21 to September 23, Ma Chunji, chairman of the board of Sinotruk (Hong Kong) Co., Ltd., visited ZASADA Group in Poland.

ZASADA Group is one of the largest holding groups in Poland and has more than 20 subsidiary companies. Its main business is divided into 4 major segments: Automotive, Real Estate, Manufacturing and Leisure Services. During the visit, Ma Chunji held talks with Piskorz, president of ZASADA Group and GAIK (the consultant of the company), the former Polish Minister of Industry, on cooperation projects between the two parties and signed a memorandum of cooperation.

During his visit, Ma Chunji met with Polish Governor Miller, accompanied by executives from ZASADA Group. Miller warmly welcomed Ma Chunji's visit and introduced the local political and economic conditions as well as relevant preferential policies of the government for investment promotion. She also expressed positive support for China Heavy truck and ZASADA Group's cooperation.